New Horizons
Last month as I wrote my blog our cheeses were winging their way to Munich for the Queens Birthday celebration. They were extremely well received and in August we could be inviting an export buyer to view our process and sample our cheese…watch this space!
Closer to home I teamed up with Andrew from Coghlans of Barningham to host a master class in cheese and wine tasting at The Witham in Barnard Castle. I really enjoyed talking about our cheeses, the aging and maturing process and how to serve cheese at it's best and it was an enormous pleasure to work with Andrew, who is a true professional and bursting with knowledge.
Awards
If you read my blog every month you'll know that last month our nominated Mature Teesdale Blue and our Teesdale Goat were shortlisted for the regional finals in the Delicious Magazine Produce Awards.
I am delighted to announce that we reached the national finals!
The Great British Cheese Awards are back and you did it again. We have been shortlisted for Best Artisan Producer for the second year in a row. Now we need all the votes we can get to reach the finals in October so if you have the time we'd very much appreciate it.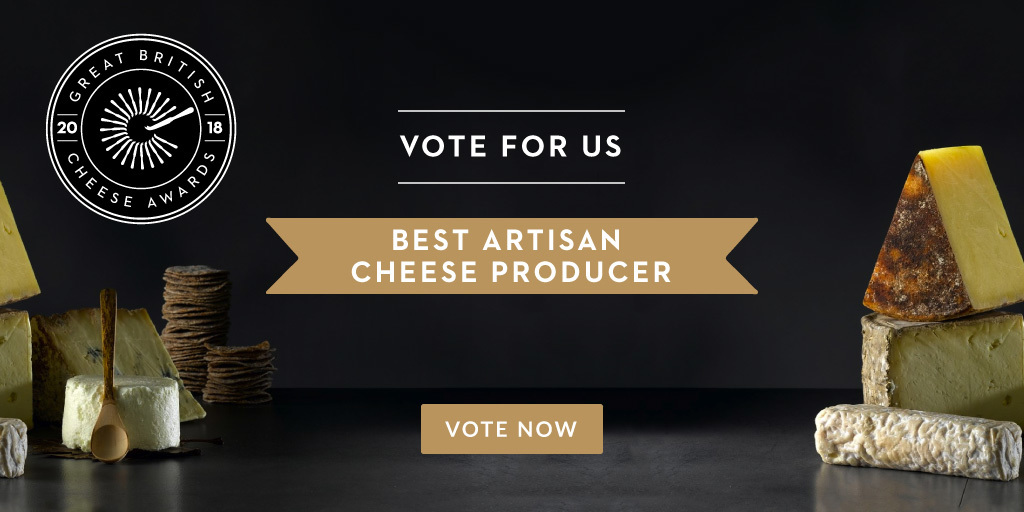 Last but not least, I was awarded Queen of Cheese on social media this month. I got a badge and everything. I'm seriously thinking of making it into a tee-shirt…
New Products
I am delighted to announce the launch of our new white semi-hard cheese: Doris.
We've named it after Grandma Raper who has been the backbone of the dairy farm, as many farmers wives are, for too long to mention.
Business News
We had a great May but a dismal June. The hot weather has really affected sales at our festivals (just for the record we can keep your cheese cool) and we had a moovan emergency which meant we missed our Leeds festival.
Speaking of which…further news on the mooove - seriously it never gets old for me. We've had a set back on the planning side so we have had to rethink our expansion plans. Disappointing but a minor set back in the long run. Sometimes you have to take a step back before you embark on a great leap forward!
Quotes are coming in for the work and we are hopeful that this month we will get the okay from both the bank and planning to take the next step in our adventure.
And we continue to grow. This month we gained two new outlets in the North East which include: Six at the Baltic and The Forge in Washington, taking our total to six with Brinkburn Brewery due to come on board when they open later this month.
Locally we are delighted to have supplied the cheese for the Fox and Hounds in Cotherstone for their Cheese and Wine evening.
Us
We managed a weekend away in June for a friends birthday/wedding anniversary. Whilst down south we took the opportunity to have a 'back stage' tour of a community farm with dairy and farm shop. I came back buzzing with ideas for the long term future of our little small holding...Jonathan is rolling his eyes again.
It wasn't all work - I bought a dress and two, yes two, pairs of shoes. Can't remember the last time I went shopping. It was a bit boring, except the new stuff, that was good…